Monday evening began like all others. My husband came home from work and within a few hours I'd be hosting my small group's Bible Study at our apartment complex due to my co-leader falling under the weather. During our group, maybe around 8:30pm I realized I started smelling smoke – like a bonfire. I remember feeling annoyed because I didn't care for the smell and thought it was late for anyone to be enjoying a fire nearby. After group wrapped up around 9pm, I returned home and thought nothing more of it. I happened to check Facebook and a friend had posted about a wildfire that had broken out in Santa Paula, which is inland and about 20 minutes east of us. Again, I didn't think more about it, but was in my thoughts and prayers that evening.
Since Greyson was already in bed by this point, my husband and I began to settle in and begin that day's devotional from our advent Christmas study. Within the hour our power cut out. We took a peek outside and I quickly realized that the power wasn't just out in our area, but all throughout downtown too. Even the highway, which can be seen out from our dining and kitchen windows, went dark. The smell of burning and smoke continued to grow and when stepping outside on our patio we needed to cover our  faces as to not inhale too much of what was drifting in the air. I noticed the ash falling from the sky as well as the light of the moon beginning to turn orange, then red, then complete darkness. I knew then what I feared most. The fires were beginning to make their way to Ventura.
My husband and I first began packing a bag fairly early on – we didn't want to wait around to find out how bad this could get before evacuations were called. So, as he stepped outside to pull the car around he immediately noticed a sight that will forever be ingrained in our memories. The blazing, and furious, fires lit up our sky in red and could be seen approaching over the hillside. I had never seen anything like what I did that evening – and hope to never again.
The fire.
Fear began to set in for me – especially as my son lay sleeping in his room unaware of the dangers outside. I knew the fires were consuming home after home and with the Santa Ana winds fiercely blowing, I knew this fire was quickly approaching. As my husband prepared the car I grabbed a pair of sweat pants and items from our pantry that wouldn't spoil- like bananas and popcorn. Then, we decided to wake Greyson and begin making our way towards LA. However, our exit would prove more dangerous and challenging than expected.
Due to the power going out our exit gates ceased to operate therefore leaving them locked closed. There was a padlock on a cover to the mechanics of the gate, which would allow us to manually open it, but alas we didn't have a key. Another neighbor, and friends of ours, also had the same idea to evacuate early and found themselves the same situation of being trapped. Our property manager, who lives on site, was of no help during this crisis and didn't have a key to help us open the gate. She called the maintenance guy who did, but it would take a while before he could arrive and tensions were beginning to mount. As neighbors were beginning to rally together to create a safe exit, and as Greyson and I sat in the car waiting, my husband found a gate that was intended for deliveries- but only one obstacle stood in our way: a wooden leasing office sign. My husband and I both knew that we would have to maneuver around it, but it would mean driving through thick shrubs and damaging our car. But, when placed in a situation like we were where we saw this impending fire creep down the hillside you're willing to do anything to protect and keep your family safe.
We eventually made our way through and were able to create an exit and get onto the main road to safety. As we drove away towards the coast we peeked from time to time out of our window to see our beloved city burn. We made phone calls to our family near and far to explain what was happening and that we were safe. Luckily the roadways were clear and within the hour we made it to Santa Monica where we found a nearby hotel that could house us for the evening. It was about 1am when we arrived but it would be hours before we could get a good night's rest.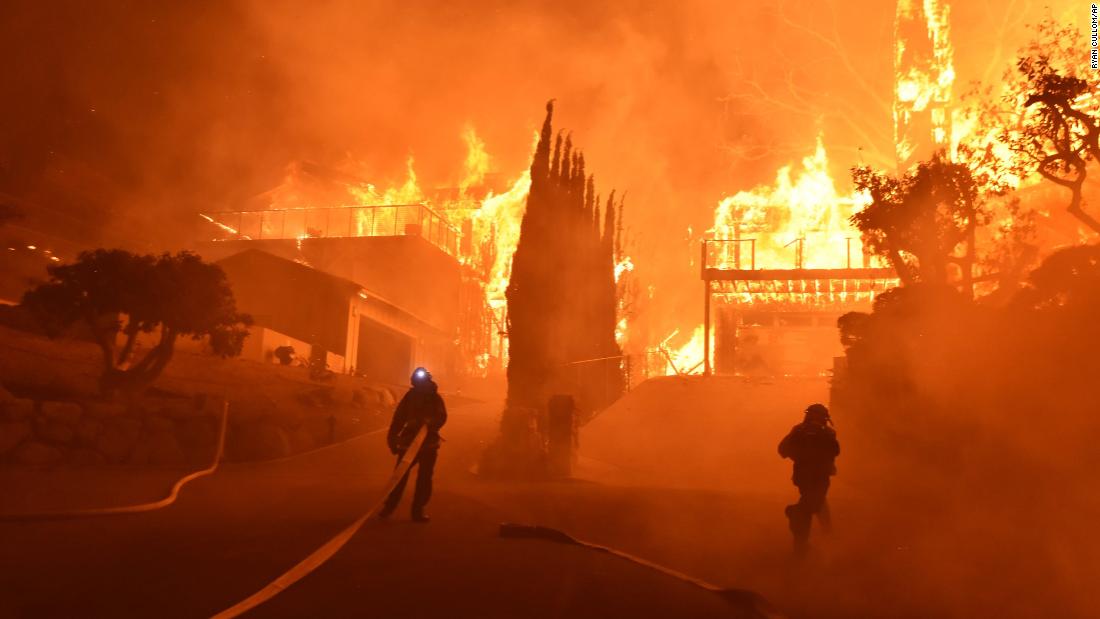 Something people don't really discuss after they experience an emergency like this is the lingering feelings of fear and anxiety that keeps you awake at night. I found myself laying in bed hitting refresh on my phone checking the updates of the fire and our city – seeing the photos beginning to flood in of homes, property, and businesses going up in flames. It was sickening to know families were losing much of what they had but moreso the memories, photo albums, and treasured keepsakes that were being lost and couldn't be replaced. My heart broke that night for our little beach community and the community of Santa Paula, where the fire originated.
Finding safety.
We ended up staying one night in Santa Monica then Tuesday making our way to Venice to stay at another hotel that would be our home for the next few days. I have to say that my heart was filled with joy by how generous and willing the staff would be with us during our stay. They were eager to help us in any way they could – and even sent up a free dessert and bottle of wine for us! It's in those little things that makes me remember how kindness and light always overcomes the darkness.
Being unsure of when we could return home due to the smoke and air quality advisories (in addition to having to boil our water and risk of power going in and out), we knew we needed a more secure and safe alternative for Greyson. On Wednesday when we were discussing the latest updates with my in-laws, they offered to take Greyson and I in until it was safe to return home. My husband and I already had flights to Texas for the Christmas holiday since we visit every year, so it was an easy decision to switch my flight and provide a better living environment for Greyson as we wait out the conditions back home in Ventura.
The following morning my husband dropped us off at LAX and we soon boarded our flight to safety. We arrived My husband continues to remain in CA, staying with a friend, and only just today was able to return home. Luckily our apartment complex didn't sustain any damages other than smoke damage to our furniture, clothing, and some personal property damage on our patio. Another huge blessing is how efficient and supportive USAA has been when filing claims for both our home and car. We couldn't have been happier with their customer service reps and how quickly we've received funds to help cover initial costs when we evacuated. It's a bit of a road ahead for us – next is reuniting with my husband after he finishes up his work commitments in California.
How you can help our family.
I've been so grateful for the outpouring of kind thoughts, prayers, offerings, and communications with friends and neighbors – and even customers! Another way you can help support our family directly is through my shop at Little Fox Lettering Co. The night of the fires I had just debuted a new collection – ironically called the JOY Collection – that is made up of home good items such as mugs, throw pillows, tote bags, and printables of the handlettered quote, "choose joy." Originally it was to celebrate the coming of the Christmas season, but now it has a much more significant meaning for us. And now more than ever purchases made from this collection will go on to benefit our family – helping me provide a small income to cover expenses and build up our savings.
Although my shop mainly focuses on handmade custom orders, I've had to pause all custom work due to being away from home. I am eager to begin again in the new year – hopefully adding new items to the shop. I've taken an unexpected hit recently, but I know God will provide…He always does.
Grateful hearts are magnets for miracles.
I remain so thankful to the brave firefighters, police, and first responders who continue to work tirelessly to ensure the safety of our, and surrounding, community. Due to their diligence, and even sacrifice of being away from their own home and families, families like mine are able to begin returning home and picking up the pieces. I am also grateful for my church community and plenty of others who have established donation centers and organizing benefit events to support those affected by this tragic disaster. So, thank you for being a part of my story either here on the blog, as a follower on social media, or as a valued customer helping a family get by. Just know, I love and am thankful for you.
Our city is, indeed, #VenturaStrong.