babymoon: noun | a relaxing or romantic vacation taken by parents-to-be before their baby is born.
Baby Greyson is on his way and could be arriving any week/day now (eek!) and something that was important for Philip and I was to take some time and get away from the hustle and bustle of life before he's born. It was pretty easy for us to decide where we'd like to go considering since we're so close to his due date we needed to stay within a few hours distance of our home/hospital/doctor and we only had about 24hrs to spend on this trip. So, it was back up to San Luis Obispo (SLO for short), which is only about a 2 hour drive from where we live in Ventura. It made for the perfect scenic drive, with stops at Pismo and Avila Beach along the way, and once we made it to town we were eager to check in to our favorite bed & breakfast, The Garden Street Inn.
Although 24 hours is a quick turnaround, my husband and I were able to really take in our final times as a twosome on this trip. We ate some pretty great food, took in the sights and sounds of the local farmers market, and popped around the town. So, that means I don't have a billion photos to share due to my whole 'living in the moment' thing, but here are a few snapshots of our 24 hour babymoon in San Luis Obispo!
My husband first took me to SLO last August as a last summer trip before I started back at work for the school year. He had planned this whole trip to San Francisco and wanted to show me everything he could as we drove up the coast and SLO was one of our overnight stops. I remember how quaint the town was and how friendly the people all seemed to be. When we were discussing where we'd like to go for our little getaway it wasn't hard to agree on a little trip back up to this quaint little town.
at a glance
setting off…
Our Murphy goes everywhere with us and we didn't think twice about having him along for our trip. He loves riding in the Jeep and most recently he has this new routine of sitting on my lap and leaning up so he can watch where Philip drives. Not to mention, he LOVES the beach so driving along the coast he always wants to stick his head out the window and watch the waves.
pismo and avila beach…
Whenever we make a trip north we always have to stop off in Pismo so we can have lunch at the Cracked Crab. This is one of Philip's favorite places and has quickly become our routine whenever we're in the area. Pismo is a cute beach town and you can't go wrong with a place that just dumps seafood on your table and you dive right in. I was in pregnant-lady heaven.
After Pismo, we drove just a few miles up to Avila Beach. It's a little off the beaten path, but is so worth it once you arrive…and a miracle if you can find free street parking. Luckily we were able to find great parking and walk straight to the pier and walk along the promenade. As you can tell, it was the perfect weather and we had such a lovely time walking around, sitting and enjoying the sun and beach, and I even found some yummy orange-cream ice cream (win!).
But, after some intense Braxton Hicks I unfortunately had to cut our time in Avila a little short, so we headed back to the car and continued on our way up to SLO.
our stay…
I have to love on the Garden Street Inn a little bit. I instantly fell in love with this cute, victorian-style home turned b&b when we first stayed here back in August. It's located right on Garden Street and is just two blocks walking distance to downtown SLO where there's restaurants and shopping and the farmers market every Thursday evening. One thing about SLO is that it is a very dog friendly community, however it's a bit difficult to find places that accommodate Murphy staying with us. However, the Garden Street Inn has always been a great place not just for us, but for Murphy as well.
SLO & the farmers market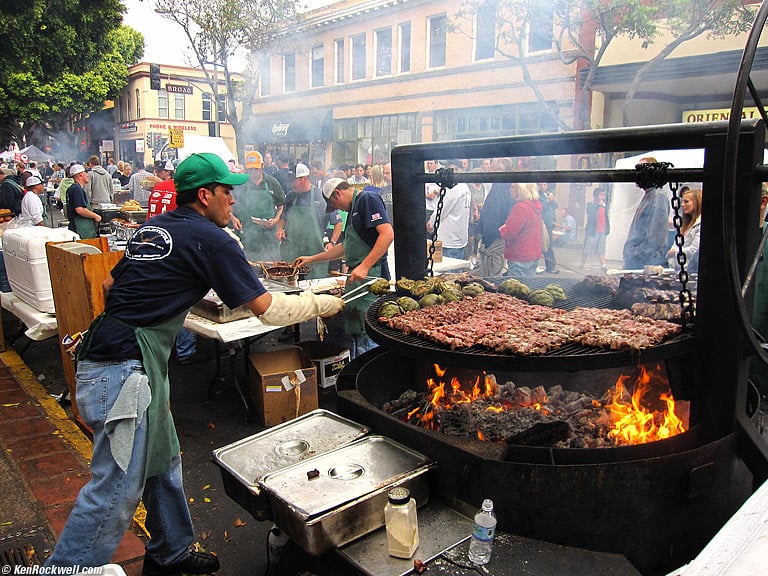 One of our favorite things was visiting on a Thursday so that we were able to catch SLOs famous farmers market (6pm-9pm weekly) featuring local farmers, venders, and other restaurants around town. I am always amazed at how yummy everything is and it makes my pregnant heart so happy. This time around it was their 'winter' farmers market so it was nice to see a few new vendors. It was also a little different this time around since it gets darker earlier, so I didn't have a chance to really snap some good photos myself. However, it was fun to walk up and down Higuera St and see the bustling people, bbq pits, and fresh foods being prepared.
Due to eating a bit earlier, I didn't eat as much as I did the last time we visited, but I can tell you that I nibbled on a caramel apple and mini donuts (also thanking God for my negative glucose test, haha!), which I believe were the best tasting treats around. I love SLOs farmers market and it continues to be one of my/our favorite things to do while we're in town.
but first, coffee…
Whenever I visit a new place I have to find their local coffee shops because I believe that small businesses like these have the best quality ingredients and handcraft all of their drinks – not to mention their service is always so friendly and welcoming. Scout Coffee Co. is that coffee shop for me and luckily it sits right across the street from the Inn.
Since I had the complimentary decaf coffee with breakfast at our b&b, I was in the mood for an iced drink or smoothie. Being pregnant, I was limited in what I could get decaf and iced, however seeing (and smelling) what others ordered made me envious and has me looking forward to us returning in the future. So, this time around I went with a kid sized (which is perfect!) coffee flavored milkshake and OMG not only was it the perfect amount, but it tasted creamy and the hint of coffee satisfied my craving. Besides, who doesn't love a place that offers me a paper straw with hearts? It's these little touches that really add something special to our time in town.
If you're ever in town, be sure to stop here because not only do they have great coffee, but there's always a chance they're hosting a fun event. Like for Mother's Day they'll have flower crowns for photo-ops and mamas can enjoy a coffee of cappuccino on the house …how adorable is that? Check out more on what's happening at Scout on their blog.
taking in the town…
One aspect of our trip that I didn't mention in the beginning of this post was that not only was this trip our babymoon (and overall excuse to get out of town), but it was a chance for us to do a little homework on the possibility of us moving here. Philip is approaching his final (and 4th!) round of interviews for a company that is headquartered here in SLO and there's a strong possibility that if he were to be offered the job our little family will be on the move once again. I had always loved this town since he first took me, but like anywhere you gain a new perspective when you could be a resident versus just a tourist.
I really enjoyed walking/driving around the different neighborhoods and checking out what they each had to offer. At our b&b we were recommended a realtor to help guide us towards the market that would best fit our needs. There are a few homes that are absolutely beautiful, but may be a little outside our price range, and then there were some that were great homes, but seemed a bit further than we'd like from downtown. However, if this possibility of moving works out, I have faith God will place our family where we need to be when the timing is right. But, prayers will always be welcomed!
heading home…but first, wine…
One great aspect to living in the central part of California is all of the wineries you'll pass along your journey. On our drive home we stopped off in Los Olivos (our favorite wine tasting community) to visit friends at Artiste, a tasting room Philip has worked at for years, and poke our heads in to our favorite tasting rooms and restock our collection (because mama is going to want some great wine after baby) at home. After almost 12 bottles bought later we were once again on the road and thankfully arrived back home before the sun set.
Murphy immediately jumped into bed and was tuckered out for the rest of the evening. We each took showers, got settled, and enjoyed a few episodes of Always Sunny in Philadelphia before we, too, were too tired to keep our eyes open.
If you don't already, be sure to follow me and my other adventures on Instagram!