Every week my husband and I meal plan by creating a menu and only getting the necessary ingredients when we go grocery shopping. It's helped us cut down on those impulse buys and by shopping at Trader Joe's, we know we're getting foods that are healthy for us and at a good price. Before I've discussed our various tips and tricks at the grocery store, and by sticking to our budget and planning a menu, for instance, we have been able to save not only money, but time and un-wasted food over the course of the last several years.
Meal planning does take a bit of time and effort in the beginning, but I promise you that it was an easy transition for us to make. Living as two (almost three here in just a short time!) it's been crucial for us to find recipes that not only are delicious, but use ingredients that we can spread out throughout the week or use up. I couldn't tell you how much food, and money, we threw out prior to meal planning.
This week I was inspired by meats. As you'll see, each recipe incorporates a different meat and prepared in different ways. We typically go the healthy route, and although some of these dinners aren't necessarily calorie free, they make for the perfect meals for busy workweeks. Little preparation, but big flavor ended up being our results from these recipes and we both couldn't have been happier.
So, need some yummy dinner inspirations to kickstart your meal plan? Here are some easy to follow dinners!
This post contains an Amazon affiliate link.

Philly Cheesesteak Sandwiches via The Kitchn
I found this recipe to be not only easy to tackle, but ended up so flavorful and delicious! We used a rib-eye cut of meat and, like the directions say just put them in the freezer to firm up and slice them thin using a mandolin. Just seriously be very careful as my husband learned the hard way that the mandolin will slice your finger if you're not too careful. I recommend that you get your grocer butcher to slice the meat for you, haha. Either way, this recipe is super easy to prepare for your family and calls for just a few ingredients.
Mexican Skillet Lasagna via The Kitchn
This recipe came out so well, and spicy, that it may just make another appearance on our menu in the future. The ingredients are simple to acquire and prepping has never been simpler. Just find yourself actual Mexican (not Spanish) chorizo and use your favorite salsa to bring out these wonderful Mexican flavors. This was the first time I had ever cooked with chorizo myself, and I learned that it's VERY salty by itself. So, use the recommended amount or even use 'to taste' since I just plopped the whole package into this dish – it still came out delicious, but more on the salty side.
The best thing about this dish? Use leftovers with eggs in the morning and it makes a wonderful breakfast too (since chorizo is typically used as a breakfast sausage)!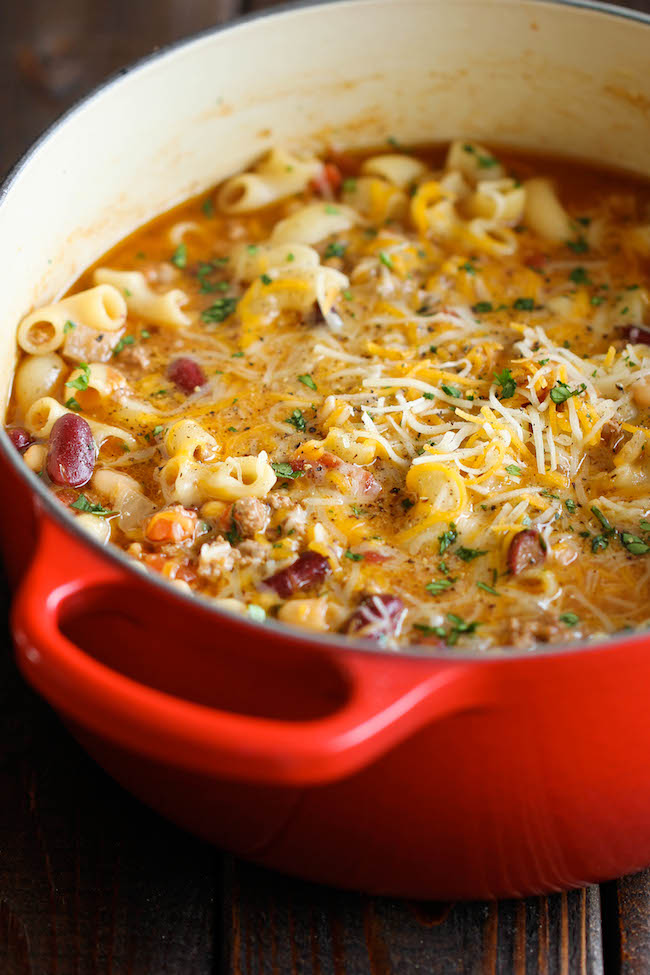 One Pot Chili Mac & Cheese via Damn Delicious
Talk about a hearty meal with plenty for leftovers…seriously. This recipe is packed full of flavor and combines my two favorite comfort foods: chili and mac & cheese. This recipe is also only 3 steps long and just requires you to cook down the onions, add the spices, meat and beans, add your noodles and top with cheese to serve. This will for sure be a hit in your home or even a potluck dinner party.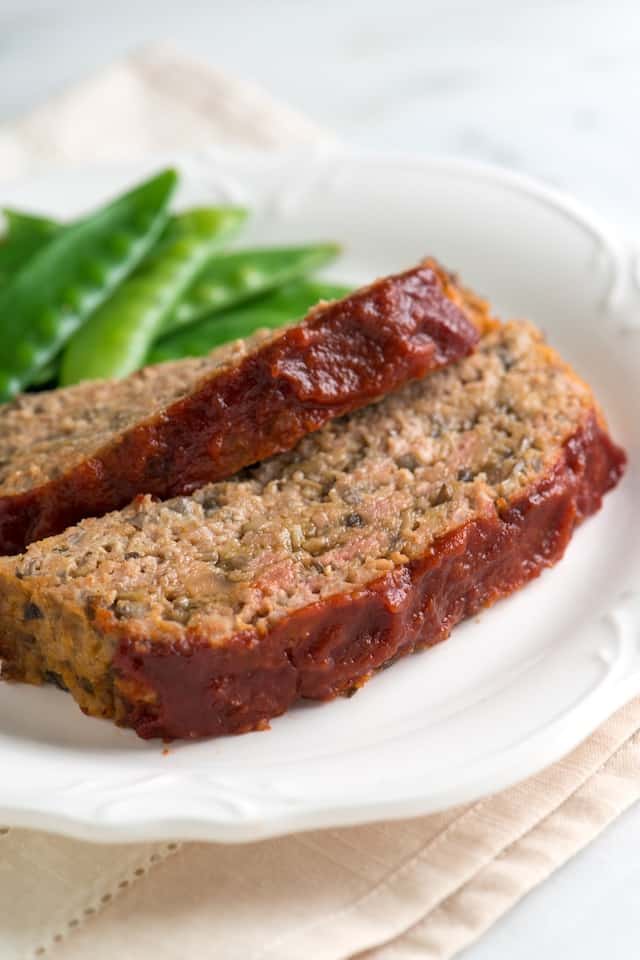 Moist Turkey Meatloaf via Inspired Taste
Now, don't be thrown off that this meatloaf recipe calls for mushrooms because I promise you that those guys are the key to making this dish moist and delicious. I was a little nervous at first myself because I've never heard of a meatloaf recipe calling for chopped up mushrooms, but I'm a believer after we've made this for dinner twice now. Again, using simple ingredients, you put it in the oven for about 40-50 minutes and voila – dinner's ready! I don't personally put ketchup on it before baking (I use it to dip), but to each their own. This recipe usually allows us to make 2 loaf pans worth, which one is used for leftovers or frozen for later.
Perfect Pulled Pork via Kevin & Amanda
This recipe was actually my husbands favorite to not only eat, but to make. He had never cooked using a brine before and found this process of preparing the meat so satisfying. We prepped the pork a few days in advance with the brine and my husband used his Smoking Gun to give the pork a deeper smokey flavor (obviously this part optional). He loves any opportunity to use it and it's been one of our favorite gifts from our wedding registry. We used a smaller cut than the one in the recipe since we're cooking for just the two of us, but once you take it out of the brine and pat it down with the dry rub, just pop it in the oven on low heat practically all day and you'll be amazed with the final product. So flavorful and juicy. We use this recipe for pickled red onions as a topping for our sandwiches…and be rest assured this is another recipe that will be making its way back onto our menu in the future.
OUR FAVORITE DESSERTS
Only just recently have I had the bug to bake again (as it is one of my favorite hobbies) and try my hand at a few new recipes for dessert these last couple weeks. The panna cotta I've made before and knew it would be delicious, but this week I chose a new recipe that I've had hundreds of times at restaurants but wanted to see how well I could make it at home. Here are a couple of my favorite, and not to mention easy, recipes to impress anyone for dessert!
Coconut Cream Pie via Cincy Shopper
This was the dessert I tackled this week as one of my new recipes to try and I can't put into words just how much of a hit this was. It's enough to last us the entire week and I was surprised as to how easy it was to make. What I loved the most about it was the fact that it requires you to make the filling and whipped topping from scratch (with the exception of the pie crust, which I used store-bought). No Jello pudding mix or store-bought whipped topping here. The only downside was that I couldn't for the life of me find coconut extract, but I simply used the vanilla extract I did have and it came out just as tasty. Needless to say I was very proud of myself.
Panna Cotta via The Kitchn
This dessert has intimidated me for so long simply because I felt like it was more difficult to make than it actually is. In fact, it's quite the easiest dessert one can make from scratch and it comes out perfect every single time – no matter how novice you are in the kitchen. We use ramekins, not a mold, but either way you'll be sure to impress everyone at dinner when you have this lovely dessert to share 😉
Be sure to follow my Cookbook Pinterest board to see more recipes I'm inspired by each week!