One thing that I've always wanted to do in our little home was to have a coffee/tea bar and I am so happy to finally reveal what I've been slowly putting together for the past month or so. With the onslaught of baby stuff coming into our apartment and needing to get creative on how to manage in our one bedroom, I knew I only had a small space that could be used for my bar. It is literally a square space right off from our kitchen – so not a lot to work with. Aside from a corner cabinet I'm not quite sure what other people in our complex use that odd space for, but I was determined to make it useful and cute all at the same time.
It took me about a month or so to acquire all of the big pieces such as the super popular Hobby Lobby wall shelf and finally decide on a cabinet. I had originally ordered a sidebar from Wayfair, but was disappointed in myself that I miscalculated the wall length so I had to return it. Later, while shopping at Target one day, I came across the Threshold Kitchen Pantry and found it was the perfect length to fit my small corner. I had debated on whether or not I wanted a cabinet in a dark or light finish, but opted for the white considering our kitchen cabinets are white. I took a little risk, but am happy with how well it worked out.
Here's how I created my coffee bar on a budget!
White Kitchen Pantry: Target | Dachshund Mugs: TJ Maxx
Initial Letter: Hobby Lobby | Green Plant: Ikea | Burlap Placemat: Crate & Barrel 
Wall Shelf w/ Cup Hooks: Hobby Lobby
Decorative Plant & Two-Teir Stand: Hobby Lobby
Having the coffee bar not only satisfies my own desires, but it also has freed up a lot of space in our kitchen cabinets. The side cabinet I chose from Target is the perfect size for that little space in the corner and it offers more storage for our cookware/bakeware that we don't use on a daily basis.
Vanilla Syrup & Caramel Sauce: World Market
If you don't already know, my favorite iced coffee drink from Starbucks is their iced caramel macchiato. After using their order ahead option on the Starbucks app, I realized just how easy it was to make this drink myself since they have the recipe right there. It just requires vanilla syrup, milk, ice, espresso (or decaf coffee for me) and caramel drizzle. So easy! Check out this recipe I found and use regularly from Pinterest for a copycat iced caramel macchiato!
Now that I have a place to store all of my coffee needs, I set off to find the vanilla syrup and I remembered that World Market had a pretty good selection of goodies for making coffee at home. I was in luck as they had exactly what I needed (and the pump!) and a few other flavors I'll have to try in the future. I can't tell you how much money I've been saving, as well as time in the mornings, by making this drink at home.
Next on my to-do list is to find the perfect prints to bring it all together. Here are a few of my favorites: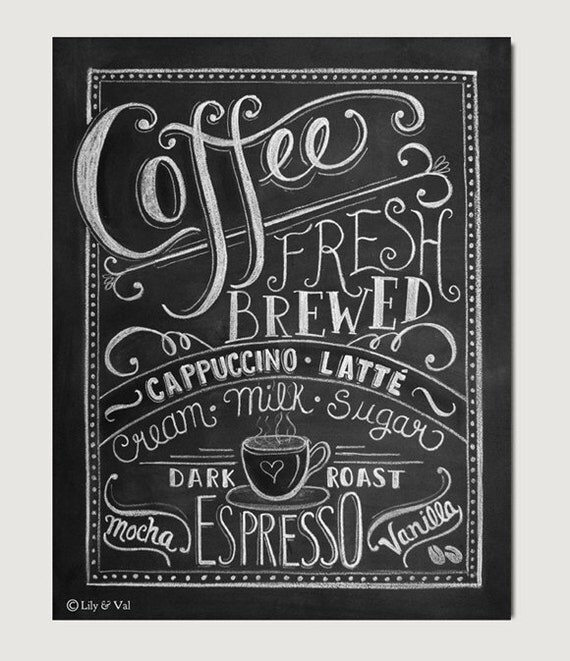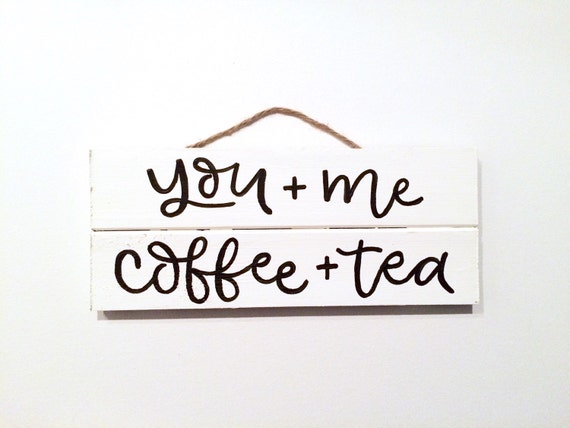 Which sign do you prefer more?
Linking up with…