I have yet to be a homeowner and I cannot wait for the day because I find extreme satisfaction in renovating, decorating, and finding new ways to organize my home. Living in a rental doesn't allow much in the way of renovating beyond paint so I find myself having to get pretty crafty in order to achieve a home I most desire. The apartment we're living in now was built in the 70s and some of the original charm can still be found – and something I so badly would love to rip out and replace! But, considering I can't, I have found a few ways I can easily upgrade this rental that is budget friendly and instantly adds a personal touch!
*Always keep in mind that before starting any project in a rental be sure to gain approval from your management and/or look over your lease agreement.
Instant Granite & Backsplash.
I just love the look of granite and to find out that it's possible to achieve this same look not only on a budget, but that's perfect for apartment dwellers like us just made my heart skip a beat. Instant granite is similar to contact paper and simply adheres to any surface. I love this option because you can transform any countertop with minimal effort and money. It's also something that is easily removed with a hair dryer.
*Keep in mind it is like a sticker so be cautious of hot items on countertops or just normal wear and tear when used in a kitchen or bathroom.
Backsplash is also an easy way to add some depth and design to your kitchen or bathroom, but living in a rental I can't apply the real thing. So, insert some peel-and-stick backsplash to instantly create the same look and can be easily removed when it's time to move out. Backsplash looks gorgeous no matter if it's in your kitchen or added to your bathroom and there's so many options in terms of design and color.
Replace Cabinet Knobs & Fixtures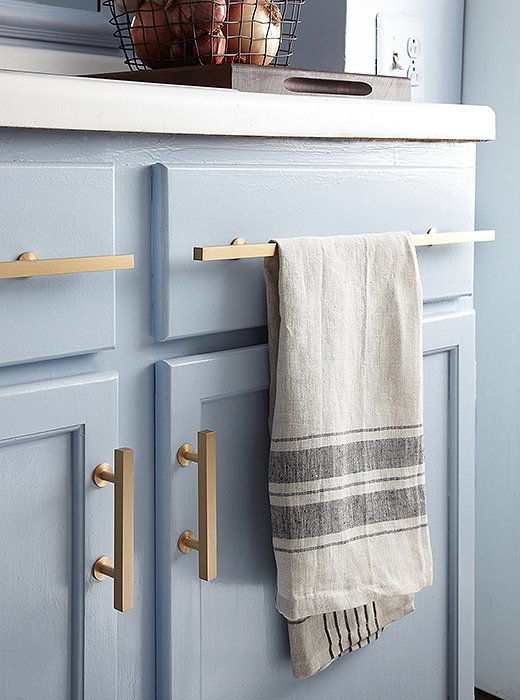 A super easy DIY fix for any cabinetry whether it's in your bathroom or kitchen is simply replacing the knobs you moved in with, with fun new ones! You can easily upgrade furniture pieces too with a simple replacement of knobs and other fixtures likes faucets and shower heads. The nice part about this is that you get to keep what you invest in – just swap the new with the old when it's time to move.
Vinyl Floor Coverings
In the bathroom we not only have those ugly sliding doors that look like they haven't been replaced in years, but we also have some pretty ugly tile to pair with it. The tile is an ugly color and the grout just makes the whole thing difficult to keep clean. I love this idea of covering it all up with  vinyl flooring, which will give my bathroom a fresh look and make it so much easier to keep clean.
Command Velcro On Mirrors
I hate that in rentals, especially in our older apartment, there's no design whatsoever when it comes to bathrooms let alone any other room in the house. We have a large mirror in our bathroom and one way to spruce it up is by adding a simple trim around the edges using Command velcro strips! It's perfectly temporary and leaves no damage when it's time to take them down. This takes a bit more prep in terms of cutting the trim or staining it if you wanted a color other than white, but the outcome looks amazing and definitely worth the work you put into it. Another option is using square corners so you can skip the trimming. It's just fascinating the transformation of just adding trim to a mirror.
Just these five things alone can make any rental feel a bit more cozy and reflect your personal style and tastes in the process. The best part is that each of these ideas are fairly inexpensive, easy to apply or install, and a snap to remove when it's time to move out. Who says you can't enjoy your rental the way it was meant to be?
What are some of the ways you've upgraded  (or would like to update) your rental? Any other tips or tricks to share?
SaveSave